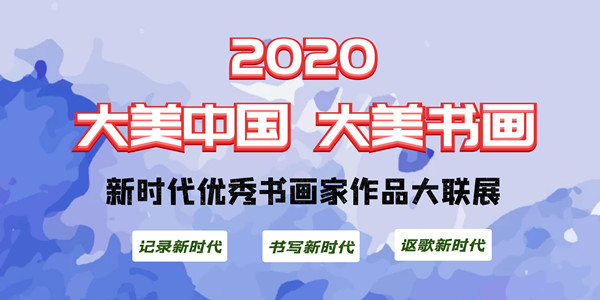 文化是一个国家、一个民族的灵魂,文化兴国运兴,文化强民族强。文化自信是一个国家、一个民族发展中最基本、最深邃、最持久的力量,与国家、民族的"根"和"魂"紧密相连。
为进一步践行"文化自信",大力弘扬祖国优秀传统文化,以优秀的作品鼓舞人、以优秀的作品塑造人、以优秀的作品激励人;用艺朮家们的聪明才智绘制绚丽多彩的华章!近日我们将陆续向大家推介入选"大美中国. 大美书画"活动的优秀艺术家。欢迎大家持续关注。
本期推出的是新时代优秀书画家王观庆。
王观庆,1944年生于浙江绍兴,系晋丞相王导后裔。毕业于江苏无锡书法艺专。后攻读研究生,作品曾获首届中国书画名家大展书圣金奖、国际书画审美大展金奖、世界华人艺术展铜奖、首届"西柏坡杯"全国文学艺术大赛一等奖等20余次大奖及中国书法500强提名奖、中国艺术市场最具影响力书法家提名奖、最具影响力世界华人艺术家终身荣誉奖,中国文学艺术界人民艺术奖。多幅作品在人民大会堂及日、韩、法、加拿大等国家和地区展出,并被文化部、中国文联及多家纪念馆、博物馆收藏。勒石于西柏坡碑林。
Wang Guanqing, born in 1944 in Shaoxing, Zhejiang, is descended from Wang Dao, Prime Minister of Jin. Graduated from Jiangsu Wuxi Calligraphy Art Institute. After studying for a graduate student, his works have won more than 20 awards such as the Gold Medal of the First Chinese Calligraphy and Painting Masters Exhibition, the Gold Medal of the International Calligraphy and Painting Aesthetic Exhibition, the Bronze Medal of the World Chinese Art Exhibition, the First "Xibaipo Cup" National Literature and Art Competition, the Top 500 Nomination Award of Chinese Calligraphy, the Nomination Award of the Most Influential Calligrapher in the Chinese Art Market, the Lifetime Honor Award of the Most Influential World Chinese Artist, and the People's Art Award of Chinese Literature and Art. Many works have been exhibited in the Great Hall of the People, Japan, South Korea, France, Canada and other countries and regions, and have been collected by the Ministry of Culture, the China Federation of Literary and Art Circles and many memorial halls and museums. Le Shi is located in the forest of steles on Xibaipo.
2004年作为中国书画艺术展代表团成员出访法国,并在巴黎举办个人书展(文化部主办)。作品被中国文联定为书法类国家特别等级(最高等级)。作品、传略入编《中国历代书画名家大辞典》《中国当代名人录》《世界名人录》等40余部典集。被授予"中国历代书画名家""中国百位杰出书法家""世界杰出华人艺术家"和"人民艺术大师""中国艺圣"等称号。入选《中国书法传世十家》《新中国书画八大家》和《中国网教名家书画教材》、东方艺术之巅《中国艺术六大名家》。出版有《中国国学名家王观庆》《中国当代著名书法家王观庆专题邮票》《魅力中国书画五大名家》《新时代杰出艺术大师王观庆专题邮票》《全国书画作品最具收藏价值30名艺术家王观庆》《吴冠中、范曾、王观庆三大家画集》。现为国家一级美术师、中国互联网联盟艺术总监、中国柳倩艺术研究学院教授、中国艺术院院士、中国五体书法研究会副会长、台北故宫书画院终身名誉院长、中国书法史学会常务理事、世界华人美术家协会终身荣誉主席等。
In 2004, he visited France as a member of the Chinese painting and calligraphy exhibition delegation and held a personal book exhibition in Paris (sponsored by the Ministry of Culture). The work has been designated by the Chinese Federation of Literature and Art as the national special grade (highest grade) of calligraphy. His works and biographies are included in more than 40 collections, including the Dictionary of Famous Chinese Calligraphers and Painters of Past Dynasties, China's Contemporary Who's Who, and World Who's Who. He was awarded the titles of "famous calligraphers and calligraphers of past dynasties in China", "100 outstanding calligraphers in China", "outstanding Chinese artists in the world" and "master of people's arts" and "holy of Chinese arts". He was selected as "Ten Famous Calligraphers in China", "Eight Famous Calligraphers and Painters in New China" and "Calligraphers and Painters Teaching Material for Famous Chinese Online Teachers" and "Six Famous Chinese Artists" at the top of Oriental Art. He has published "Wang Guanqing, a famous Chinese sinologist", "Special Stamps of Wang Guanqing, a famous contemporary Chinese calligrapher", "Five Famous Charming Chinese Calligraphers", "Special Stamps of Wang Guanqing, an Outstanding New Age Artist", "Wang Guanqing, the 30 Most Valuable Artists in Chinese Calligraphy and Painting", "Wu Guanzhong, Fan Ceng and Wang Guanqing's Three Great Paintings". Currently, he is a national first-class artist, artistic director of the China Internet Alliance, professor of the Liu Qian Art Research Institute of China, academician of the Chinese Academy of Arts, vice-chairman of the Chinese Five-Body Calligraphy Research Association, honorary president for life of the Taipei Imperial Palace Calligraphy and Painting Institute, executive director of the Chinese Calligraphy History Association, honorary president for life of the World Association of Chinese Artists, etc.
作品欣赏